Reading Time:
7
Minutes
By Rushil Desai, 3rd year Energy Science Student
The content on this app and on www.insightiitb.org is strictly the property of InsIghT and the Students' Gymkhana IIT Bombay. Reproduction in any form of mass media is strictly prohibited.

Chief Editors: Anubhav Mangal, Suman Rao
Mailto: insight@iitb.ac.in
Join the InsIghT Google Group: iitbinsight@googlegroups.com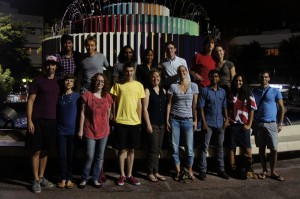 Israel. When I told my parents that I'd be having a two-month stint in Israel, they were a bit nervous, to say the least. Israel isn't the first country that comes to mind when you say you want to go for an internship outside India. This nervousness, kind of, evolved inside me as well during my first week in the country – the idea of living in a completely unknown land, far from home, without friends or family didn't really thrill me. At first, I used to avoid meeting new people as far as possible, was reluctant to venture out at odd hours and used to find comfort in curling up in bed, skyping with the familiar.
But that is what happens to every first-timer travelling alone; it's a part of the process of eventually being able to appreciate where you are. Within a week, you grow out of the Skype-is-a-21st-century-marvel phase and you begin to explore the city, one step at a time. For the two months of my stay, I was stationed in Rehovot, a small but cheerful town, built around the Weizmann Institute of Science and the Robert Smith Faculty for Food, Agriculture and Environment. In terms of sightseeing, there isn't much to do, but it is beautiful nonetheless. There is one main street – Herzl Street along which one can find several cafes and bars, with the entrances to the Faculty and the Weizmann Institute also lying along the same road. Ten minutes away from my temporary abode is a huge shopping mall (groceries, electronics and restaurants) and the Rehovot train station.
One short walk across the campus and you immediately notice two powerful structures piercing the sky. One is the Koffler Particle Accelerator, now an astronomical observatory. The other, and I take pride in this, is the roughly-15-storeyed solar tower. I had the opportunity to stand within the tower and watch the field of heliostats gleaming in the morning sun. Intellectually, we may be at par with the people there but in terms of technology, we are decades behind. How I can say that with such conviction you ask? Well, for starters, the solar tower I was referring to was built nearly 25 years ago!
[pullquote]It was hard for me to digest the fact that they had a fully-functional solar tower here (I've only ever seen one in textbooks), let alone one that has been functional for over two decades.[/pullquote]
The first time I saw the colossal monolith, I was so awestruck that I couldn't take my eyes off of it for several minutes. My work at the institute was mostly experimental and essentially entailed performing leak tests on fuel cell seals – nothing extraordinary in itself, but part of a much larger, more interesting project – utilizing solar thermal energy to reproduce fuels from CO2. Very friendly people at the lab and fancy-ass equipment made the stay extremely memorable.
A weekend in Israel means Friday and Saturday. Sunday is a working day. But the real fun began when I stepped out of the lab. Rehovot isn't the most hip and happening city I've seen but it isn't the least either. Herzl street itself is lined with cafés and bars and I made a mental note that I wouldn't cook at home unless I absolutely had to. [pullquote]Frankly, there's no point 'saving' if you have a decent enough stipend. "Life is too short to drink fine wine from paper cups". At one point, I bought a loaf of bread and a bucket of hummus and that was dinner for two nights straight![/pullquote] Since I'm big foodie, I enjoyed experimenting with food, sampling beers and taking in the new sights and sounds. Obviously, I fell in love with hummus. Beef, halloumi, pesto, feta, tahini, mozzarella, bacon, parmesan, tahini, tzfat, fresh olives – I was living the dream! (Notice that every alternate name is that of a different type of cheese)
One may say that travelling alone may be kind of lonely but that's what makes it all the more interesting – everywhere I went, there was a chatty waitress or a talkative bartender to converse with. If you're alone or have sucky company, sit at the bar. Here's why. Service is extraordinarily fast, waiters/waitresses and bartenders tend to interact with you much more if you're at the bar, and you can have really memorable conversations with them. Surprisingly, a lot of these people had been to India, mostly to the north, Goa and Andaman. It was embarrassing to admit that I had probably been to fewer places in India than they had. One of them had 'Om' tattooed near her collar bone. She introduced herself as Mor (she said 'peacock' when I asked her again) and I smiled as I saw what had been scrawled on the bill – 'Dhanyavad'. And this was at a Yemenite café! I'll give you another example – I was watching the Champions League final at a roadside bar, next to an Argentinean fellow who was rooting for Dortmund while I supported Munich. Both of us couldn't understand a word the other said but we knew what was going on and we communicated through football. Doesn't this sound more interesting than meeting up with the same old people and talking about the same old things? And I haven't even got to the best part yet.
[pullquote]They had this very unique and endearing tradition every Thursday. At 3 PM, the entire department would convene at the common kitchen for free food; everyone would drop all their work to chat, laugh and eat together for one hour and would part ways with a "have a nice weekend". This event, called 'Happy Hour', would have a different theme every week – Israeli cuisine, sushi, Chinese, ice cream and beer, falafel and candy.[/pullquote]
The real city that never sleeps, Tel Aviv, is surreal. One of the most gripping features of the city is how open-minded and lively the people are. The city seems to accept you no matter who you are and that fascinates me. When I asked people what I should do there, the first thing that every single one of them said was that I should go hit the beach. And that is precisely what I did. The beach was gorgeous – soft sand, clear waters and beautiful people all around. It is when you travel to such places that you realize that what India lacks is cleanliness – we have plenty of beaches but they are downright filthy. The water here was so ridiculously clear that you could see the shadow of the upper wave on the sand through the lower one.
After hours of lazing around at the beach, it was time for some serious sightseeing. And I had two places on my checklist. Normally I like to wing it but I wasn't leaving without paying a visit to the Tel Aviv Museum of Art and the Carmel market. The massively populated outdoor Carmel market (or Shuk HaCarmel) was filled with the aroma of a variety of cheeses, interesting street food, fresh olives and a ludicrously large array of spices. [pullquote]The best part (the worst, for some) – haggle all you want, as much as is humanely possibly and you shall be rewarded.[/pullquote] On the other hand, the museum was a different world altogether – urban, artistic, graceful, refined and spacious.
All that walking got me hungry after a while, which took me to Rothschild 12, a café on the most popular (and populous) street in the city. From the outside, it looks like a nice, upbeat café. But there's a door at the end which leads to the hidden bar – where the lights are too dim to see what you're eating and the beats loud enough to pop out your eyeballs – Exactly what a bar should be like! The next night, I met a few really free-spirited, life-loving Jewish Canadians. We started talking intently about language, music, girls, religion and the 'universality of the mind' – how people don't need language, nationality or religion to connect with one another, they will always find something in common. And it couldn't be any truer. [pullquote]This is what I love about travelling alone – you do whatever you want, whenever you want. You learn to step out of your comfort zone, meet intriguing individuals and experience life from a different perspective.[/pullquote] The most spontaneous moment of my trip was probably the night I randomly took a bus to Tel Aviv – 'spontaneous' because it was completely unplanned, I had to borrow money to be able to afford the bus and I had no idea what I was going to do there. This was a few weeks after my 'official' trip to the city. Just that evening I had learnt about the White Night celebrations in Tel Aviv. The first Tel Aviv 'White Night' festival was held in 2003, to mark UNESCO's awarding of World Heritage status to the White City, Tel Aviv's international-style buildings constructed in the 1930s. Since then, on the last Thursday in the month of June, every single fun-loving soul flocks to this delightfully lively city to sing, dance and make merry till the wee hours of the morning. Live music, art, dance, food and beer. Everywhere. All night. What's not to love! The sheer number of people on the streets was riveting. There were amateur bands playing a variety of instruments including the drums, guitars, trumpets and clarinets, people dancing to the loud, heart-thumping music emanating from clubs and the crazy and youthful climbing up on trees and statues. It reminded me of one of Jay Gatsby's extravagant parties. No restrictions. No inhibitions. Just plain unadulterated fun all night long. I returned the next morning at 5:30 AM, weary but enthralled by how full of life Tel Aviv is.
On the very last day, I went to dine with 14 new people – 14 adventurous individuals from France, Italy, Suriname, Russia, Germany, Switzerland and Poland. It felt enlightening just to be in the presence of so many different people from so many different parts of the world. Science is one of the few things that has the ability to unite the world, otherwise divided by borders. All-in-all, the entire experience was enriching in several ways. The people I met were some of the most cheerful, fun-loving and genuine folks ever. I say this from the bottom of my heart (Quoting from 'Scoop' here but I genuinely mean it 😛 ) I have irreversibly changed within, for the better. And I guess that is what an internship is all about. You grow intellectually, see the world through your eyes, open your mind to new lifestyles, people and experiences. All of this makes you who you are.
If there is one thing I learnt during my stay, it's that you must expand your horizons, make the world your playground instead of confining yourself within the rigid walls of your comfort zone.