Reading Time:
2
Minutes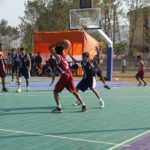 In Athletics, which was the first event of the day, heats were held for the 400M runs and shotput throws. While the shotput team saw no qualifications to the knockout rounds, the 400M race saw modest success. Prithvi and Pawan qualified to the finals to be held later, and so did Aishwarya Malgonde in the women's category.
In table tennis, the day was tremendously successful, Both the men's and the women's teams won comfortably. The men's team beat IIT Jodhpur, with IITB contingent leader Kshitij Jain winning two out of two games and Divya winning the only game he played. Kshitij Sankhe, who plays his first inter-IIT this year, lost two toughly-contested matches. With this, the men's team beat IIT Jodhpur 3-2. The women's team, comprising of Niyati Jhamaria and Arushi Agarwal won straight sets, each of them winning a match and the doubles match together, thereby beating IIT Jodhpur 3-0.
In lawn tennis, the men's team was successful in beating IIT Jodhpur in straight sets. Neir Gandhi won 6-1, 6-1 whereas Akash Jangid and Shashank Shrivastava won 6-0, 6-1. The women's team faced tough luck, with Archana Gulgulia and Anam losing to IIT Madras in straight sets.
The football match was a rivetting and aggressive game against Kharagpur. Hemant 'Bobby' Gadi scored the equaliser in the second half, drawing the game 1-1.
The hockey match against IIT Mandi was rated by the audience as the most comical match ever witnessed by them. In a clinical display, IIT Bombay scored 11 goals, with IIT Mandi scoring nil.
The weightlifting team saw huge success. In the lightweight category today, Sumit Bhagat won the gold, with Irshad Raushad bagging bronze. IIT Bombay stands a tantalizing second, 1 point behind hosts IIT Guwahati which is at 8 points, which IIT Bombay hopes to overtake in the heavyweight category to be held tomorrow.
In basketball, the men beat IIT Kanpur 56-42 and the women beat Kanpur 33-24, marking a successful day for the basketball team.
The volleyball performance by the men's team was poor today. In a passive performance, they lost to IIT Delhi in straight sets by huge margins. They will hope to bounce back soon tomorrow against IIT Mandi in which our team is a very clear favourite. The women's team performed admirably against IIT Madras, beating them in straight sets scoring 25-19 and 25-16