Reading Time:
2
Minutes
The 9th of october evening was a cool, cloudy day with a light breeze blowing. It was this day that was chosen by the Student Alumni Relations Cell (SARC), to organise the IIT-Bombay's first ever Sports Day. Till now, interaction between students and alumni had been limited to a few Basketball matches. But this time the alumni faced off with the current Inter-IIT teams in sports ranging from Cricket, Hockey, Tennis, Squash, Football, Volleyball in addition to Basketball.
It promised to be a fun-filled event, with a large number of Alumni showing up with their families. Children ran around the Gymkhana ground, playing the sports their fathers excelled in. For the Alumni, Not only did it provide a great oppurtunity to meet up with old friends, and even their coach from their Inter-IIT days, but also visit the institute that was so dear to them. Says Mr.Narayan (Mech engg dept 1992), "We have great memories of this place, and its great to come back." The perception among students was this was a great event, but the weren't expecting much competition. Institute Athletics Secy Amrit Meena says"No athletics event was held because who would run after all these years?" But all the students were in for a shock.
The Hockey match was a closely contested one. The students opened their account, due to a great pass by Himanshu, which was swept in by Shrimal. The students doubled thier lead in the opening seconds of the second half. But the Alumni struck back with a great shot from the spot. The final score turned out to be 3-1 to IIT-Bombay.
The Basketball match provided the best spectacle of the day. It was neck in neck till the final whistle. The Alumni started off in the lead, but the students caught up. The alumni then extended thier lead to 15 points. Only the last quarter did the students edge past to win by a single point.
Needless to say, Edwin sir was not happy with the close encounter. The final score was a tantalising 54-53 in favour of IIT-B.
It seemed that no matter how hard the Alumni played, final victory would always go to the students. Till it came to the Football match. Under the floodlights and the goalline protection of Rohan Parekh, the alumni faced off against the IIT-B team. The alumni started off the mark, and after that all the IIT-B team could do was try and keep up with their older counterparts. the final score was 3-2 in favour of the alumni!
The results of other sports were:-
Cricket: Alumini lost to IIT Bombay by 45 runs.
Volleyball: IIT Bombay 3-0 Alumni Team.
Tennis:
Mr. Vikram Sampat and Mr. Misra lost 3-6 to Akash Jangid and Nitish Mittal
Mr. Vikram Sampat and Mr. Varuchi won 7-5 against Raumil Suthar and Rishabh Khandelwal
Gaurav Agrawal (Alumni) won 4-3 against Sai Nishanth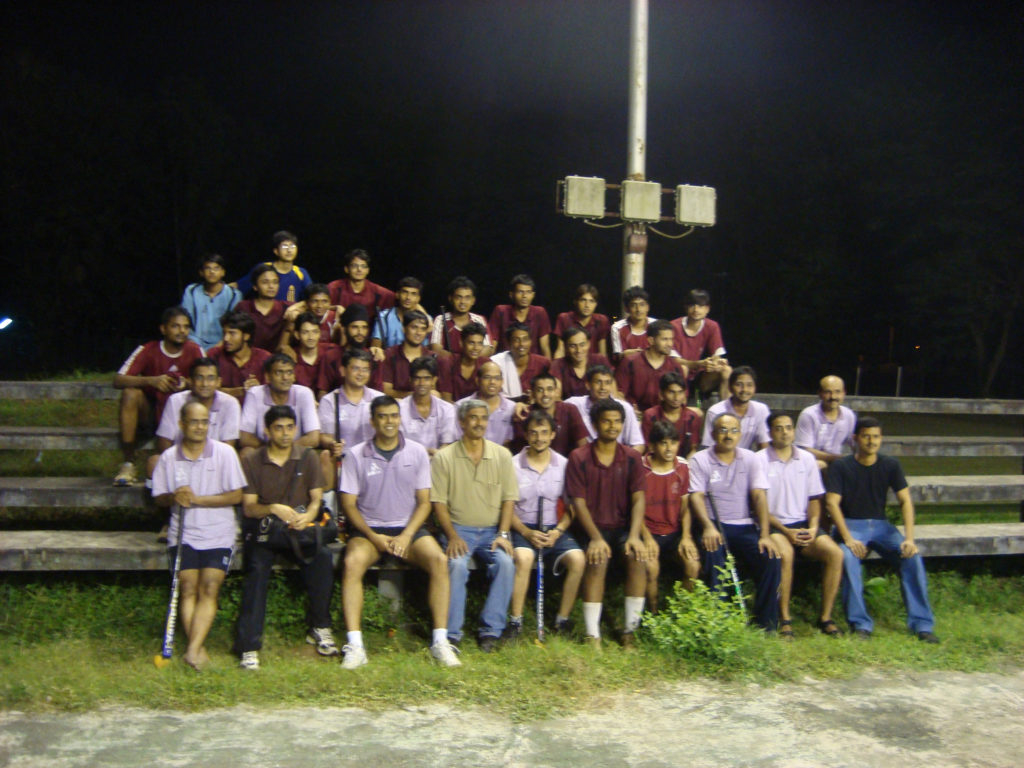 – Compiled by Anubhav Mangal