Reading Time:
4
Minutes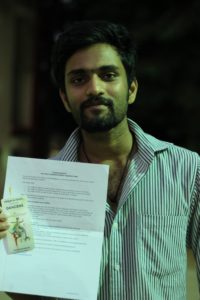 Samanth Vinil is currently a fifth year student from the Department of Engineering Physics. From being a nobody in the dance field to clinching a 1 year contract with Cirque du Soleil, a top entertainment company based out of Las Vegas that puts up dance shows all around the world, Samanth has come a long way from his humble beginnings. He learnt his art from scratch by watching videos as a sophie, and did not get deterred when he was not selected to represent IITB as part of the Street Dance group in Mood Indigo that year. Now he's known as Samboy – the Popper. He is a striking example of the fact that hard work, dedication and patience is all you need to be successful in life.
InsIghT: Hey Samanth! Congratulations! So firstly, tell us how you got into dancing?
Ironically, I did not dance until I came here. And now that I have found it, I am really happy and thankful to IITB for giving me the opportunity to start, improve and grow.
When I came to IITB, I was really enthusiastic about Physics. My choice of branch was Engineering Physics. But I discovered that what I had expected the branch to be and what it actually was were two completely different things. I was in a dilemma for 2 years. I did not know what to do. Then I found dance – and I loved it. It became my identity. I started dancing for Gyrations in my second year and got hooked onto it. I watched many videos so that I could learn the art.I even tried Bboying but failed. It required lots of time, a proper place to practice as well as energy. One particular video – Mr. Wiggles' performance in France – got me started on Popping – a form of street dancing. It was mindblowing. The ease with which he danced and juggled entranced me and I started my journey as a Popper. I practised a lot. I wasn't a natural, but this didn't deter me from trying to get better at it. I was frustrated but I didn't quit. I constantly strive to improve. You cannot learn anything overnight. And now here I am.
InsIghT: How much time do you devote on your passion vis-a-vis academics? Is your passion affecting your academics? If so, does it bother you?
I've never felt that dancing affected my academics. I'm able to manage Academics and devote the rest of my time to dance – my passion. Initially, I used to practise all day long, typically in the corridor of my wing in the evenings and the roads during the night. After 3rd year, I started practising regularly in the summers, about 2 hours everyday after dinner in the dance room. I even conducted Popping classes in the institute in December. Thrice a week, I taught 15 people for an hour and a half. But then I stopped teaching because this was something that could not be learnt in such a short while. From then on, I practised 1-2 hours a day.
InsIghT: How and when did you turn Professional?
Once I grew confident, I started contacting poppers and street dance enthusiasts all over the world. I sent videos to them. I found a group of Poppers online and I posted my video there. Some Indian guy commented on it. I contacted him, we met, practised and later I joined his crew – the Funky disodaz – during last year's summer vacations. I then performed in various college fests (KC College, Umang, etc.) along with them.
After joining a crew and practising with them, I realised that practising alone had been my mistake. Exchange of ideas, camaraderie, learning different techniques and new moves were all part of being in a crew. It opened up more avenues. I had acquired better contacts. A Crew also takes parts in battles, performs at various places. One specific advantage this gave me was an opportunity to look closely at the intricacies of Bboying. I had also become more popular. Poppers in India started noticing me. I got an audition for Cirque du Soleil and got selected. They offered me a one year contract and here we are.
InsIghT: Has the environment at IITB been helpful towards achieving your goals in your chosen field?
Yes. IITB provides freedom. This was the main reason I was able to choose dance as a passion and make it my forte. If the same is implemented at the school level, more artists can come up. India, unlike Western Countries frowns upon arts and the like. But IITB is not so. It gave me a very supportive environment. I was finally doing something I really liked and the people here appreciated it. That encouraged me to keep trying harder and become the best.
InsIghT: Did you face any kind of obstacles while you developed your talents?
Indian Society does not accept dancing as a profession. All my well wishers asked me to take up something more serious, something which would better fill my pockets. Hence, I have decided to supplement myself through designing which I am good at (I have been doing it right from my first year at IITB). This way, I would not only keep dancing but also give my family and friends their peace of mind.
InsIghT: Tell us more about how you became a part of Cirque du Soleil!
It was through one of my contacts that I sent my audition tape to the company. They invited me to an audition along with 29 other Poppers. I was fortunately among the 8 that were selected. They said they would call us whenever needed. Just yesterday morning, I got a mail from them about a project titled Love. I am supposed to play the role of Krishna. We kick start the project in June at Las Vegas, the company's base, and will probably go on a tour. The details are not that clear but I am probably the only Indian in the project.
InsIghT: Where do you see yourself once you are out of IITB?
All I know is that I will keep dancing no matter what. Things will happen of their own accord. The crew contacted me on their own. Cirque du Soleil happened similarly. My dream is to interact with poppers around the world, learn their styles, exchange ideas and become an internationally acclaimed Popper.
InsIghT: What is your advice to dancers here at IITB who want to make it big?
Every Dancer feels the same emotion when they dance and that is bliss. So just stop worrying and enjoy dancing. Be patient. Keep learning. Practice is the key to Success. I used to think that being best in one dance style was enough. But after experiencing several new styles, I would ask them to learn other ones too. After all, it is a huge plus to be versatile.
** Samanth's video channel – http://www.youtube.com/user/samanthvinil