Reading Time:
6
Minutes
The content on this website is strictly the property of Insight and the Students' Gymkhana IIT Bombay. If you wish to reproduce any content herein, please contact us:
Chief Editors: Shreerang Javadekar, Shreeyesh Menon
Mail to: insight@iitb.ac.in
Background
The recent announcement regarding the cutbacks in the scope of PHO work created a great furore amongst the student community, thereby necessitating a closer look into the issue. Here are the facts of the matter:
We looked at the PHO work order for last year (June 2015 to May 2016) which lays out the scope of work (and the cost involved) followed by the new schedule that was intimidated to all hostels by respective maintenance councils. Due to the unavailability of the new contract (2016-17), we've made all deductions based on the one that was awarded last year. This, we believe, would serve as a close approximation to the new contract.
Update: The new contract has been made available to us on 26/10/2016.
Contract Details and Changes
There are two PHO contracts pertinent to this issue.
Old Contracts:
Block C – https://gymkhana.iitb.ac.in/~hostels/contract/Work_order-C-15-16.pdf
Block D – https://gymkhana.iitb.ac.in/~hostels/contract/Work_order-D-15-16.pdf
New Contract (were made available to us and the public only after 26/10/2016, while work on the article had started much earlier):
Block C – https://gymkhana.iitb.ac.in/~hostels/contract/Group_C_2016_New_work_order.pdf
Block D – https://gymkhana.iitb.ac.in/~hostels/contract/work_order_D%20-2016.pdf
New Scope of Work:
Scope_of_work-C-15-16 – https://gymkhana.iitb.ac.in/~hostels/contract/Scope_of_work-C-15-16.pdf
Scope_of_work-D-15-16 – https://gymkhana.iitb.ac.in/~hostels/contract/Scope_of_work-D-15-16.pdf
Note: Costs are calculated on a per sq.m basis and hence different for Block C and Block D.
Block C includes Hostels 1-7, 9, 15 and 16, Tansa House, SAC, Indoor Stadiums, New Gymkhana building & New Swimming pool and Toilet blocks of Type – I Bldg No. 11.
Block D covers rest of the hostels, Cafeteria Toilet blocks, its surrounding area cleaning work, Staff Hostel, Gulmohar building, Jalvihar Guest House, Vanvihar Guest House, Hospital (Old Bldg and New Bldg.), QIP Bldg 10 (A), House to House to garbage collection from Residential area and community hall, NCC and Garage cleaning work.
Here are a few aspects of the contract relevant at the hostel level (as sent to maintenance councils via Dean IPS) that we decided to focus on:
| Previously | Now | Redressme.co.nz/ball-dresses.html">dressme.co.nz/ball-dressme.co.nz/ball-dresses.html">dresses.html">dressme.co.nz/ball-dresses.html">dressal |
| --- | --- | --- |
| Handwash Provided (400 litres for each block per month) | No Handwash will be provided by PHO | PHO will be responsible for filling of soap but the cost will be borne by the hostels |
| Weekly cleaning of hostel rooms | Monthly cleaning of hostel rooms | To increase flexibility, you can choose a particular week where you want to get your room cleaned. The number however stays at one per month |
| Cleaning of toilets, bathrooms, urinals and washbasins thrice a day | Cleaning of toilets, bathrooms, urinals and washbasins twice a day | – |
| Weekly hard cleaning of toilet blocks | Monthly hard cleaning of toilet blocks | HA council is trying to push for once in two weeks but this remains at once a month now |
| Monthly cleaning of floors, staircases, corridors, foyers, dining hall, TV Rooms | Bi-monthly cleaning of floors, staircases, corridors, foyers, dining hall, TV Rooms | – |
Savings
As per the work contract of 2015-16 for Block C for cleaning activities and wholesale prices for soap, we did the math and calculated the ballpark savings on individual activities. They were as follows:
Note: These calculations were done before the new contract was available to us.
| Activity | Savings |
| --- | --- |
| Handwash | 60,000 per month (for 400 litres) |
| Cleaning of hostel rooms | 1,56,599 per month |
| Cleaning of toilets (daily) | 14,881 per month |
| Hard cleaning of toilets | 33,484 per month |
| Cleaning of floors,etc. | 72,504 per month |
Here is the total PHO budget at a glance:
| Block/Year | Block C | Block D |
| --- | --- | --- |
| 2015-16 | 3,09,74,718 | 3,15,02,408 |
| 2016-17 | 2,84,05,559 | 3,11,23,668 |
It is clear that the budget cuts aren't as severe as one would expect given the reduction in work. Even after incorporating these changes in the new contract the savings amount to a mere 25 lakh a year for Block C. It should also be noted that the costs of cleaning per sq.m. have risen as compared to last year which can account for the disparity in estimated savings and actual savings. The question still remains as to whether these cuts are warranted when the negatives outweigh the tiny fraction of savings achieved.
Effect on PHO workers
The contract offered has the following clauses to protect workers from exploitation:
1. Contractor would not be allowed to sublet the work to a sub-contractor.
2. The contractor shall follow the rules and regulations of the Contract Labour (Regulation & Abolition) Act 1970 and Rules 1971.
3. The Contractor shall provide PF & ESIC facility to the workers as provided in the PF & ESIC Act.
4. The Contractor shall follow the Minimum Wages Act and salary to the workers shall be disbursed on or before 7th of every month.
5. The salary shall be paid in the form of A/C payee cheque or through ATM facility and disbursement should be made in the presence of PHO representative.
6. Every month salary register & Attendance Register shall be submitted in PHO before release of payment for checking.
Therefore, it doesn't look like that the wages received by workers would be affected but rather the number of workers would be reduced.
Current number of PHO workers employed within institute are:
Block C: 121 minimum (currently stands at 156)
Block D: 117 minimum
We expect these numbers to fall since the scope of work has also been reduced.
After speaking to a worker, we gathered that each hostel will now require 2 less workers and consequently the total number is being reduced from 156 to around 109. Now that the contract is available, we know that the new minimum requirement is 102 for Block C and 127 for Block D.
Comments from the Public Health Officer and Dean IPS
PHO workers are hired by a labour contractor and sent to various places in the city by the company depending upon the requirement. In fact even IITB has a flexible manpower requirement as per the contract, although it mentions a certain minimum that is required. It therefore looks like workers won't bear the brunt of this measure.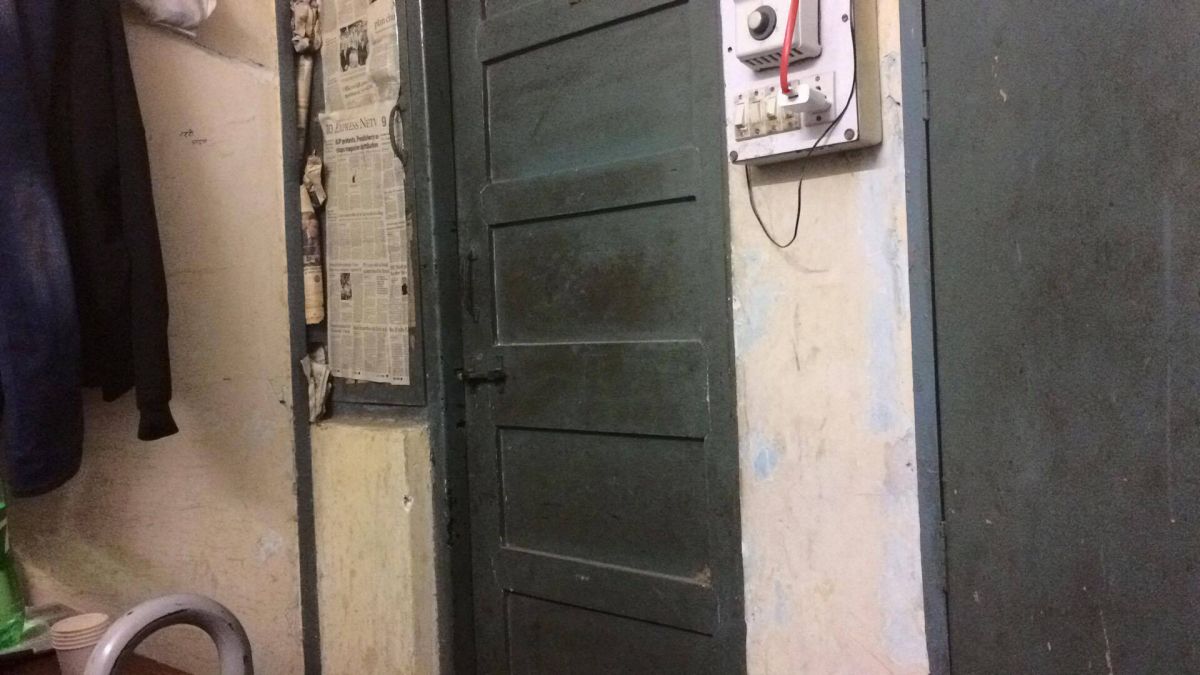 We spoke to the PHO office regarding this issue and this is what they had to say:
All cleaning activity takes place in two shifts, a morning shift and an evening shift. Following the directives from Dean IPS and the new contract, the second shift will now be shut down which corroborates with the information that the number of workers is being reduced. As to why these measures were introduced, the PHO office said that it has got to do with budget cuts although even they have very limited information available.
We also approached Dean IPS for his comments on this issue. Here's what he had to say:
Most students did not utilize the room cleaning facility, resulting in a wastage of man hours. Also he cites the Swachh Bharat Abhiyan, opining that students should clean their rooms themselves and most other institutions do not have room cleaning facilities. The handwash was removed as it was felt as an unnecessary expense in context of the budget cut that the institute is facing.
As for the change in the cleaning of washrooms he stated he was unaware of any such change. Also we could not get a clear figure on the expected savings from this move, however he did say that the amount was a small one. These changes have been made in consultation with the Dean SA, hence student dissent will be addressme.co.nz/ball-dresses.html">dressme.co.nz/ball-dressme.co.nz/ball-dresses.html">dresses.html">dressme.co.nz/ball-dresses.html">dressed by him.
There is not much scope (non-IITian) for negotiation as the work order has been enforced for the current year meaning that any changes, if deemed necessary can be incorporated only next year.
GSHA's comments
Budget cut is indeed a reality. MHRD's budget for the institute is roughly the same amount that it used to provide four years back. Rise in the number of students and devaluation of money over time just makes things worse. Each and every vertical in campus is affected by this, resulting in an overall reduction in all facilities and activities on campus except for the hostel budgets. So, I do agree that in these times of financial crisis, the changes were inevitable from the institute's end as well.
Swachh Bharat Abhiyaan is a great initiative overall but applying it directly in our hostels in an unplanned manner is surely not the best of ideas. The institute's initial stance was to altogether get rid of room cleaning facilities. Consulting the Dean SA or Hostel wardens alone won't be enough to give the policy makers a complete perspective, as they are aware of only a part of the on-ground reality. Hence, we feel that having a HCC representation in the PHO tendering committee (final policy making body for PHO) would be a better way to move things in future.
I believe some of the present changes do not make sense, even on low budget, like the monthly hard cleaning of toilet blocks instead of doing it weekly. Hostel Affairs Council is pursuing these changes through HMC and Dean IPS office. All the final changes shall be made public once we're done.