This article is only internally accessible, and is the property of InsIghT and the Students' Gymkhana IIT Bombay. Reproduction in any form is strictly prohibited.
Chief Editors, InsIghT – Anubhav Mangal, Suman Rao. Mailto: insight@iitb.ac.in
Academic Dishonesty @ IITB
By Anshul Avasthi, Anukriti Chaudhari, Devendra Govil, Saaz Sakrikar, Sagar Sheth ————–
"I'll abide by the rules and regulations of the institute, and will cooperate with the Institute's authorities in maintaining discipline, academic standards and good order in campus."

-You
In the midst of all the forms and declarations we sign in the chaotic first week in campus, it seems that a lot of us don't fully appreciate what it is that we're signing up for. For a long time now, cheating on take-home assignments has been considered a norm, with some even extending this mentality towards mid-sems and end-sems. The problem with
[pullquote]"It's unfortunate that the Chemical Department needs to resort to punishments as strict as these. But, it is still better than Professors simply giving up and doing nothing inspite of them knowing that students are being dishonest." – Prof. Sadhana Dash, Department of Physics.[/pullquote]
This 'chalta hai' attitude was most recently brought to light when around 60 fourth-year UG students in the Chemical Department were given direct FRs for copying on a lab report last semester. Even though this was later reduced to 15 FRs and around 30 two grade penalties, the incident sparked a huge debate regarding the nature of corrective measures taken by the Institute and their justification.
Status Quo
Aside from the obvious reference to the use of unfair means in quizzes, exams and graded assignments, academic malpractice also includes plagiarism in BTPs, DDPs, M. Tech Projects and even PhD theses.
Most students we spoke to admit to having witnessed copying from a large parts of their classes in a large number of courses.
Since it's tough to tell exactly how many of us indulge in academic malpractice and expecting every student to be perfectly ethical is probably overly optimistic, InsIghT decided to grade the Institute on a scale relative to other Institutes of a comparable academic standing, by surveying the foreign exchange students from all over the world who are on campus. Of the 15 exchange students on campus, 11 were respondents to our survey.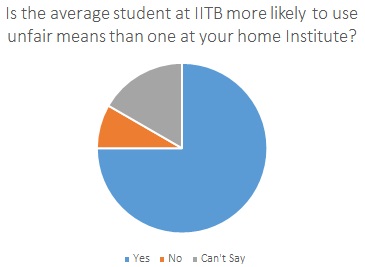 [pullquote]"Almost all Professors and students are aware that such practices are rampant. I suspect that nearly 70-80% of B. Tech students, 30-40% of M. Tech students and 15-20% of PhD students have plagiarised sections of their projects." – Prof. M P Gururajan, Metallurgical and Material Sciences[/pullquote]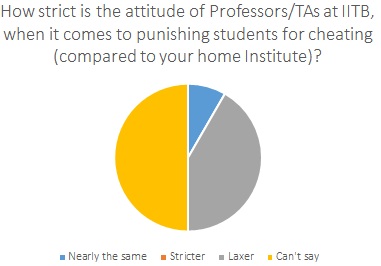 [pullquote]"The problem isn't limited just to B. Tech students – it's fairly evident in the PhD candidates as well. In fact, IIT Bombay does not put up the research work done by PhDs online because they are unsure of the authenticity." – Prof. Alok Shukla, Department of Physics[/pullquote]
These results (despite coming from a small data-set) would suggest that apart from being more likely to copy and possibly less trusted with 'take-home assignments', we are also let off more easily when caught. A similar survey on a far larger scale (about 400 respondents) was conducted by the Ethics Committee within the Institute last semester. While the complete results haven't been made public yet, the survey did reveal that:
A significant number of students felt that ethical standards are low or need improvement.
The majority of students felt that their ethical behaviour was influenced by their peers and senior students rather than stated expectations of the faculty or the institute administration.
The specific awareness of rules regarding malpractices and ethical behaviour in general was low.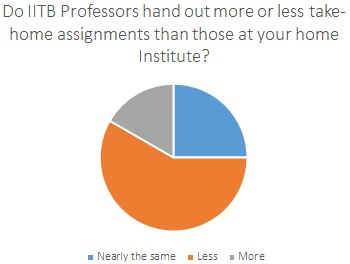 Even so, a lot of students on campus seem to be of the opinion that the corrective measures by the Institute are extremely severe, possibly because we're unaware of the severity with which such matters are dealt with elsewhere. For instance, just a few months back, Harvard handed out forced withdrawals' to 70 undergraduates in a class of 279 for cheating on a take-home test.
[pullquote]"FRs being handed out to people getting caught is unfair only in a limited sense. Students calling such actions too strict are like habitual ticketless travellers complaining about getting caught. You knew what the risks were when you chose to cheat." – Prof. Anurag Mehra, Chemical Engineering[/pullquote]
Hardik Mehta, who's been to the National University of Singapore as an exchange student had this to add:
"Students there have an inherently sincere approach towards education. Moreover, cheating doesn't form a part of their student culture. It is extremely tough to copy since no students endorse cheating. I can't really say why such a difference in attitude exists or how it can be dealt, but some of the blame definitely lies on the tradition of cheating set by seniors and the attitude of 'Why should I study if I can get good results without studying?' "
What could happen if you're caught cheating
Academic malpractices are severely dealt with. In case of malpractice during any of the evaluations like assignments, quizzes, tests, and examinations, the instructor can award a "FR" grade in the course immediately on occurrence and report the matter to the Dean of Academic Programmes, through DUGC. If the Dean (AP) finds that the offence is serious enough, s/he may further refer the matter to the Disciplinary Action Committee (DAC).
-Section 5.9, Rules and Regulations Booklet
[pullquote]"Until a few years back, most students wrote only the first and last paragraphs of their reports, brazenly copying the rest – this was fairly evident to us due to the drastic change in the quality of language used." – Prof. K. Sudhakar, Aerospace Engineering[/pullquote]
Theoretically, academic malpractices can be taken very, very seriously. The consequences can range from meagre grade penalties to referrals to the Academic Disciplinary Action Committee (ADAC) – which is where the really grave actions (such as suspensions and expulsions) are considered. While the Rules and Regulations state that the decision to involve the ADAC should be made by the Dean AP, Prof. Shiva Prasad himself stated that this call is taken by the Professor in-charge of the course – leading to major variations from case to case. The ADAC meets once every two months – dealing with about four to five cases at every meeting. Again, the exact punishment is awarded on an ad hoc basis due to the lack of rigid guidelines. Prof. Shiva Prasad is also trying to make the details of these meetings (with names excluded) public in order to clarify the punitive measures reserved for various offenses.
Look out for further coverage on this topic in our next print issue due next semester